(Included is a view of Penthouse Playmates from 1969 to 2016 at the end.  You Can click on any image to view details)
The Penthouse magazine story is a unique tail of rags to riches and back. It's a story that could only happen against the backdrop of the turbulent 1960's, the sexual revolution of the 1970's and the resultant backlash of the more puritanical 1980s. At the heart of it all was a very unique character who helmed this ship to the heights of worldwide publishing before seeing it dashed on the rocks of a changing market and extreme financial missteps. The collectible Penthouse Magazine issues offered by Doodle Dan's Deals  offer a chance to own a piece of a world that will never exist again.
Robert Charles Joseph Edward Sabatini "Bob" Guccione, was born in Brooklyn, New York on December 17th 1930 to Italian-American parents Anthony and Nina. Bob was always interested in art and trained to be a painter. Early on he took jobs as a cartoonist to make ends meet and even spent some time managing a string of laundry mats. His first wife started a mail order business selling pin-up photographs. At the time they were living in the United Kingdom and Bob became fascinated with the American publication, Playboy. He envisioned a magazine that would emulate playboy but have a very definite British slant. It would take the Playboy business model but go further. The articles would be more cutting edge and controversial, the pictorials would feature more nudity and more suggestive poses than Playboy. Using the information gleaned from the Pin-up business Guccione launched the UK edition of Penthouse Magazine in 1965. It was an immediate success and caused immediate controversy. The politicians in the UK wanted to either ban it or educate people about the "Dangers of Pornography". All this did was give the magazine a LOT of free publicity, and soon it was difficult to keep on newsstand shelves due to demand.
In 1965 Guccione, who continued to use the art of parody he learned as a cartoonist, made a parody flyer of a West End burlesque show. The star's manager contacted him, irate over the parody, and insisted that if he saw the talent of the show's star, Kathy Keaton, he would never make fun of it again. Guccione went to the show and was instantly taken with Keaton. He offered her a job selling advertising for his fledgling magazine, and a business partnership was born. It was a rarity for women to be in advertising sales in the 1960's, but the South African born beauty Keaton had a knack for it. She soon rose in responsibility and began to hire other female employees. Soon Penthouse rivaled feminist icon Ms. Magazine for number of female staff. This trend would continue through the life of Keaton's tenure at the magazine.
In 1969, building on the roaring success in the British Isles, Guccione and Keaton decided the time was right to take on the biggest competitor on their home turf. They opened a New York office, devised a "Rabbit Hunting" advertising campaign, and began the American edition of Penthouse Magazine. It was an instant success. People who had heard of the more racy British version of Playboy were chomping at the bit to get their hands on the magazine.
From the beginning, the "Penthouse Pictorial" style was very different from the "Playboy Pictorial". Playboy tended to go for the brightly lit, Bubblegum Pin-up style of photo with a brightly smiling model. Guccione had never used a camera professionally before starting the magazine. After asking a UK photographer friend to explain to him how the device worked, he began to use carefully placed light and shadow, along with a soft filtered look to establish what would become the "Penthouse Style". Guccione had another firm rule -He didn't fraternize with the models he was shooting, even though many made advances toward him. The usual 3 day shoots would start with the model thinking "What a nice guy" when he didn't make a pass at them. By day 3 many would be VERY aggressively trying to seduce him. This fit perfectly with the sultry, hyper sexual style of photo he was looking for.
After the Rabbit Hunting series of ads (again showcasing Guccione's talent for parody, and cartoon prowess), Penthouse wasted no time in pushing the limits of the established US obscenity laws. In a pictorial in June, 1970 a model was shown at a distance walking on a beach with a bikini top but no bottom. Her pubic hair was clearly visible. The photo was small and no one noticed. The next month, a model was more clearly shown with her pubic area visible. The censors had an immediate reaction and contacted Penthouse to inform them that this was not acceptable. Guccione countered informing them that they had lodged no complaint about the former month's issue and he could therefore stand on precedent. In that one move "The Pubic Wars", a pun on the historical Punic Wars, were launched.  Hugh Hefner instantly shot back that Guccione had stepped over the line. In an interview Hefner made the definitive statement on the subject saying that "Pubic Hair will NEVER be shown in Playboy Magazine". It took exactly 9 months (shorter if you count publication time) for sexy Norwegian blonde playmate Liv Lindeland to appear clearly showing pubic hair in her pictorial. Lindeland would go on to become Playmate of the year (getting a sweet playmate pink DeTomaso Pantera in the deal), and Playboy's stance on pubic hair was changed forever. Hefner conveniently forgot that he ever made his proclamation.
As Penthouse continued to grow its American readership, it pushed deeper and deeper in to controversial territory. Though some of the stories in the 1970's bordered on conspiracy theory, many more dealt with very real issues. Guccione was a firm supporter of the US Military and in particular injured veterans. He consistently used the magazine as a platform to expose the plight of veterans returning from the Vietnam war only to face a disapproving public, and a completely inadequate support system. Nearly all Penthouse press junkets included extended visits by the Pets to VA hospitals. This focus continued for the entire run Guccione had as publisher of the magazine.In the late 1970's Guccione decided it was time for Penthouse to enter the film market. He proposed an X rated film about one of the most X rated characters in history, the mad young Emperor Caligula Caesar. The film would feature massive sets for the extravagant orgy scenes. It would be based on a script by award winning author Gore Vidal and directed by auteur Tinto Brass. The cast included luminaries Helen Mirren, Peter O'Toole, John Gielgud, and Malcolm McDowell as Caligula. The film was difficult from the beginning, and had massive budget over runs. When it was finally completed after the longest production schedule in history at the time, no distributor would touch it due to the real sex acts and X rating. Guccione ended up buying a theater in New York and playing the film there continuously for a year where it was only a moderate success. Where it found it's true audience was on the emerging VHS home video format.
The profits from Caligula were earmarked to complete Guccione's Penthouse Casino project in Atlantic City, New Jersey. Unfortunately he had gone against the advice of his most trusted advisors in starting the casino in the first place. He had begun construction prior to receiving a gambling license from the fledgling NJ Gambling Commission. Afraid to taint their new reputation by granting a license to a pornographic casino, the commission refused to grant the license. Real estate developer Donald Trump was coming off an early bankruptcy and had many tax concessions from Atlantic City to develop multiple casinos. Trump used his influence to stall Guccione at every turn and the project languished. Eventually it was scrapped, losing an estimated 150 million dollars.
In 1980 Penthouse reached a milestone. US sales surpassed Playboy for the first time. In 10 years, the British born magazine had unseated the reigning champion on its home turf. Guccione would use this bully pulpit to continue to advocate for his causes and push the envelope even further. The 1980's would see the rise of Ronald Reagan and the "Moral Majority" led by the Rev. Jerry Falwell, and televangelists like Jim Bakker and Jimmy Swaggart. Guccione took them on head to head, and spent a great deal of money investigating every aspect of their lives. He hit pay dirt when he found a New Orleans prostitute who had Jimmy Swaggart as a frequent customer. The expose would lead to the downfall of the powerful preacher and end the massive operation he had in Baton Rouge, Louisiana. It left many partially constructed buildings to rust and decay, in a explicit example of the pen being mightier than the sword. In another issue he revealed a gay speechwriter in Falwell's Moral Majority organization.

Not all controversial topics worked out so well for the juggernaut magazine. A center spread featuring adult film star Traci Lords became illegal when it was revealed that Lords had used false identification to prove her age and was in fact 15 years old at the time. A running correspondence with the Unabomber, Ted Kaczynski, failed to gain any traction. But perhaps the worst backfire was the purchase of a photo spread featuring the first black Miss America, Vanessa Williams. All contestants of the pageant had to sign a pledge stating that they had never participated in any activity that could publicly embarrass the organization. Williams didn't reveal that she had posed for an artful, but nude and very sexual pictorial with another woman. Penthouse purchased the photo set and published them, without permission from Williams. With the public announcement that the photos would be published, Williams was forced to relinquish her crown near the end of her reign as Miss America. There was a massive amount of backlash from the public, angry that a youthful indiscretion would tarnish the record of the first African-American to hold the crown. Many feel that though the publication of the photos was a landslide financial event, the magazine never recovered the status it held before purchasing them. It could be said that Williams had the last laugh, launching a very successful film and TV career, and in 2015 getting her crown restored, a formal apology from the pageant, and a spot as a pageant judge.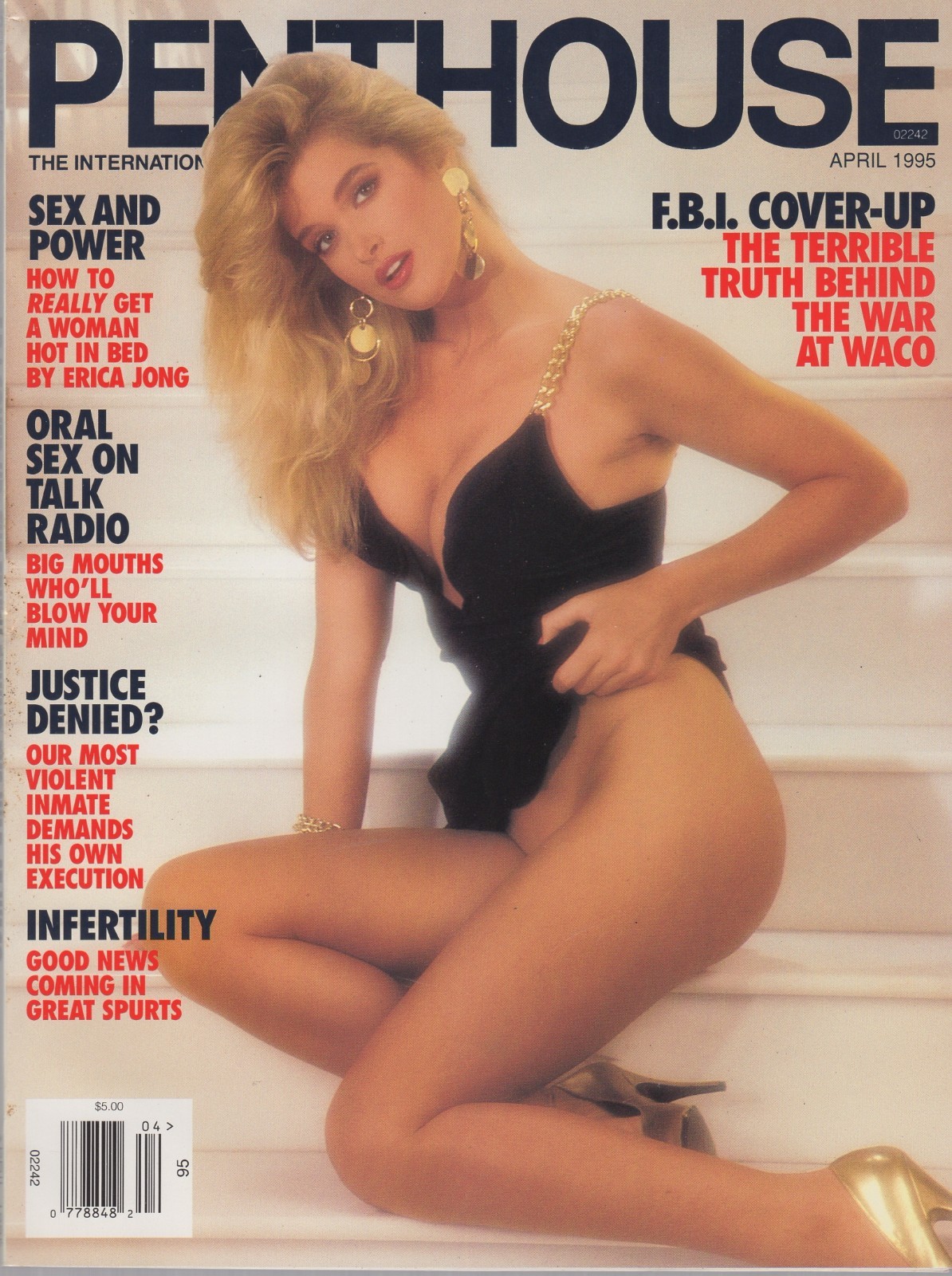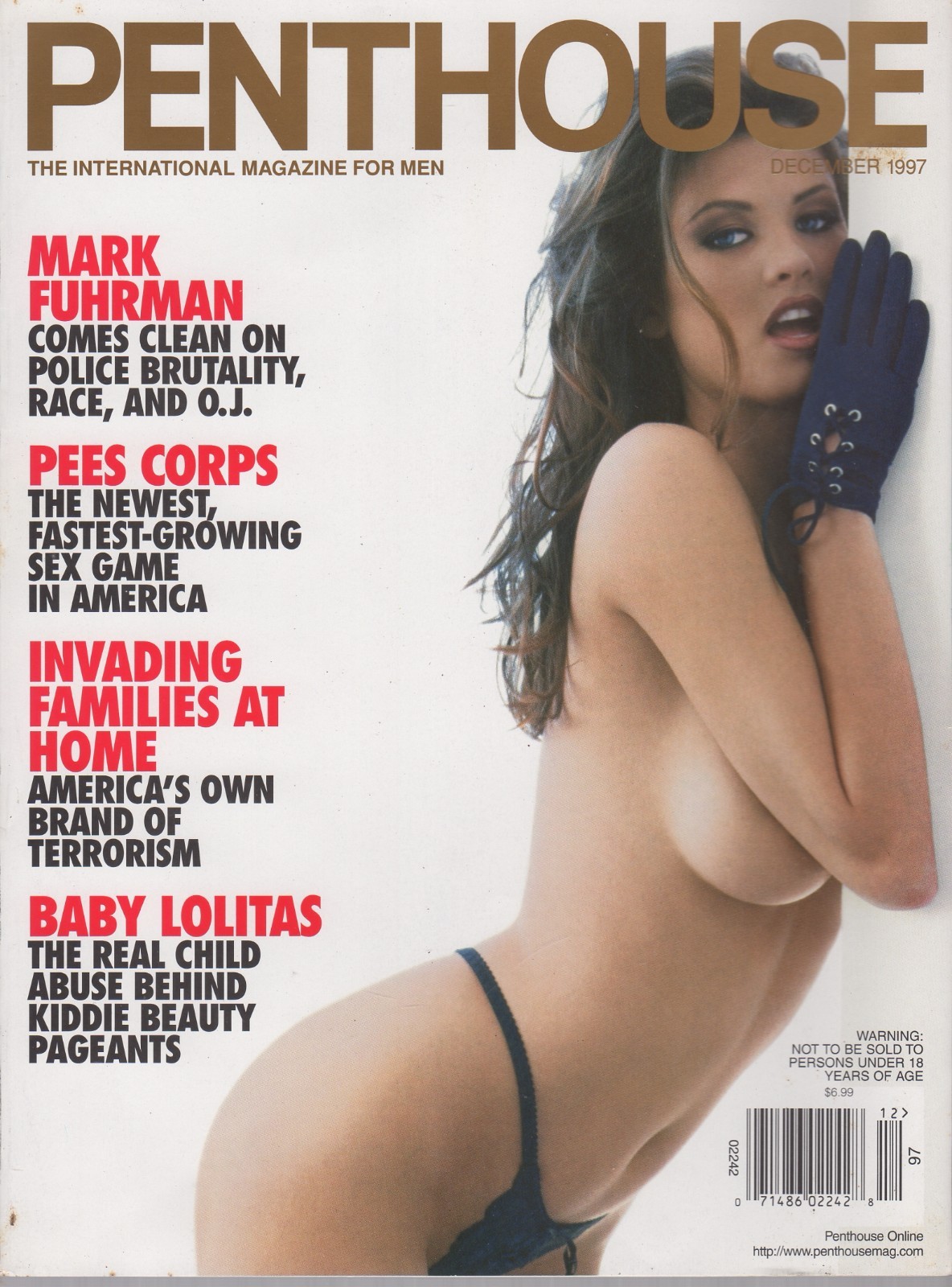 The trend continued as Penthouse published several issues featuring Bill Clinton affair accusers Paula Jones and Gennifer Flowers. Penthouse broke the story of Playboy sweetheart Pamela Anderson and Tommy Lee sex's tape, including stills of Pam and Tommy engaged in sex acts at home and on their boat. Another Playboy darling, Anna Nicole Smith was also poached by Penthouse in a "Lost Nudes" issue. Candid shots of celebrities were a draw as well. Madonna, and Hollywood Madam Heidi Fleiss were shown in "Private" photos. A highlight was when Claudia Schiffer was caught nude on a friends yacht and the photos were published in the magazine. B movie queen Julie Strain was featured on a cover with Hollywood bad boy Charlie Sheen and in a nude pictorial inside. The 25th Anniversary edition featured the infamous Tonya Harding with her "Leaked" sex tape.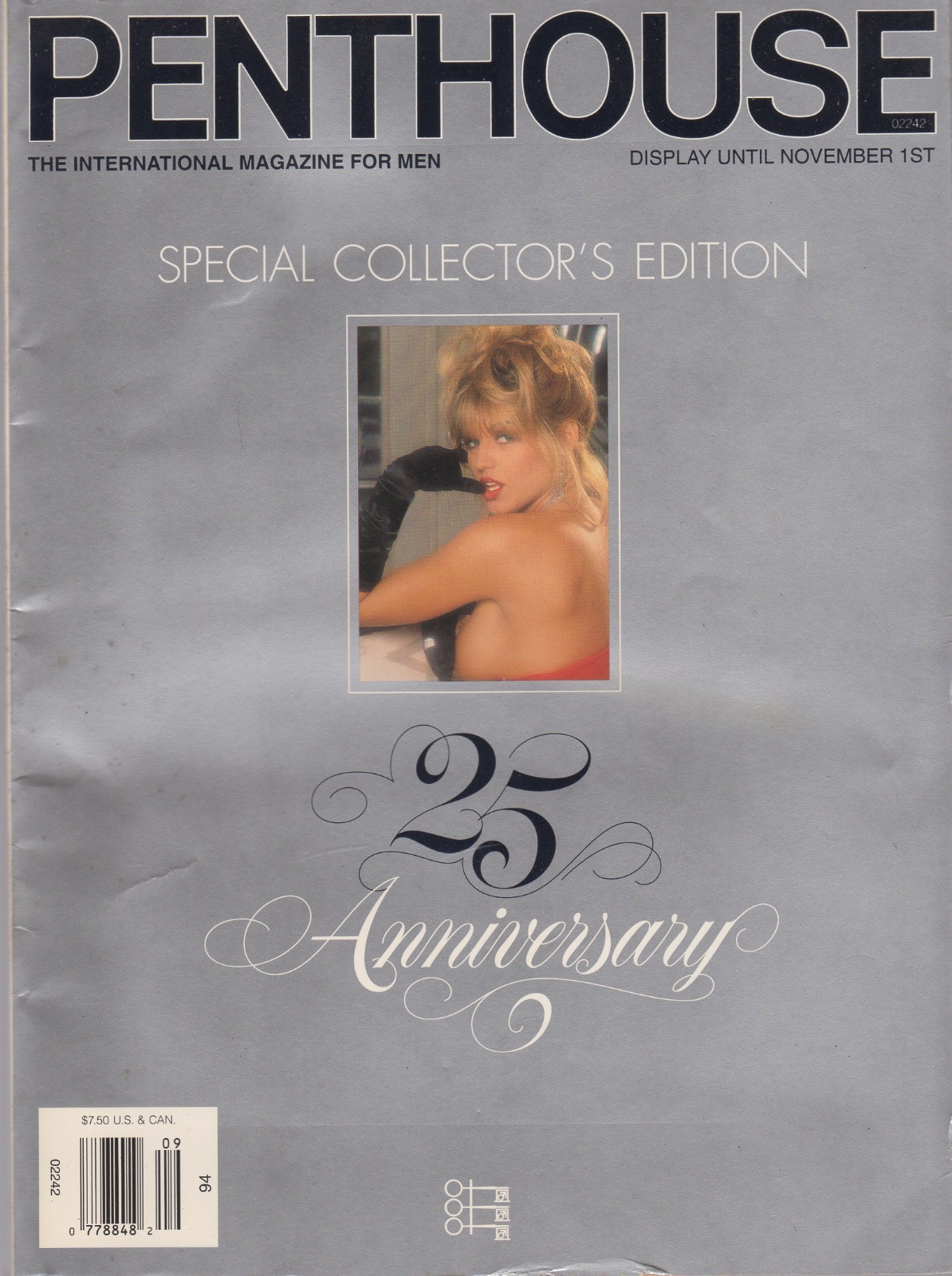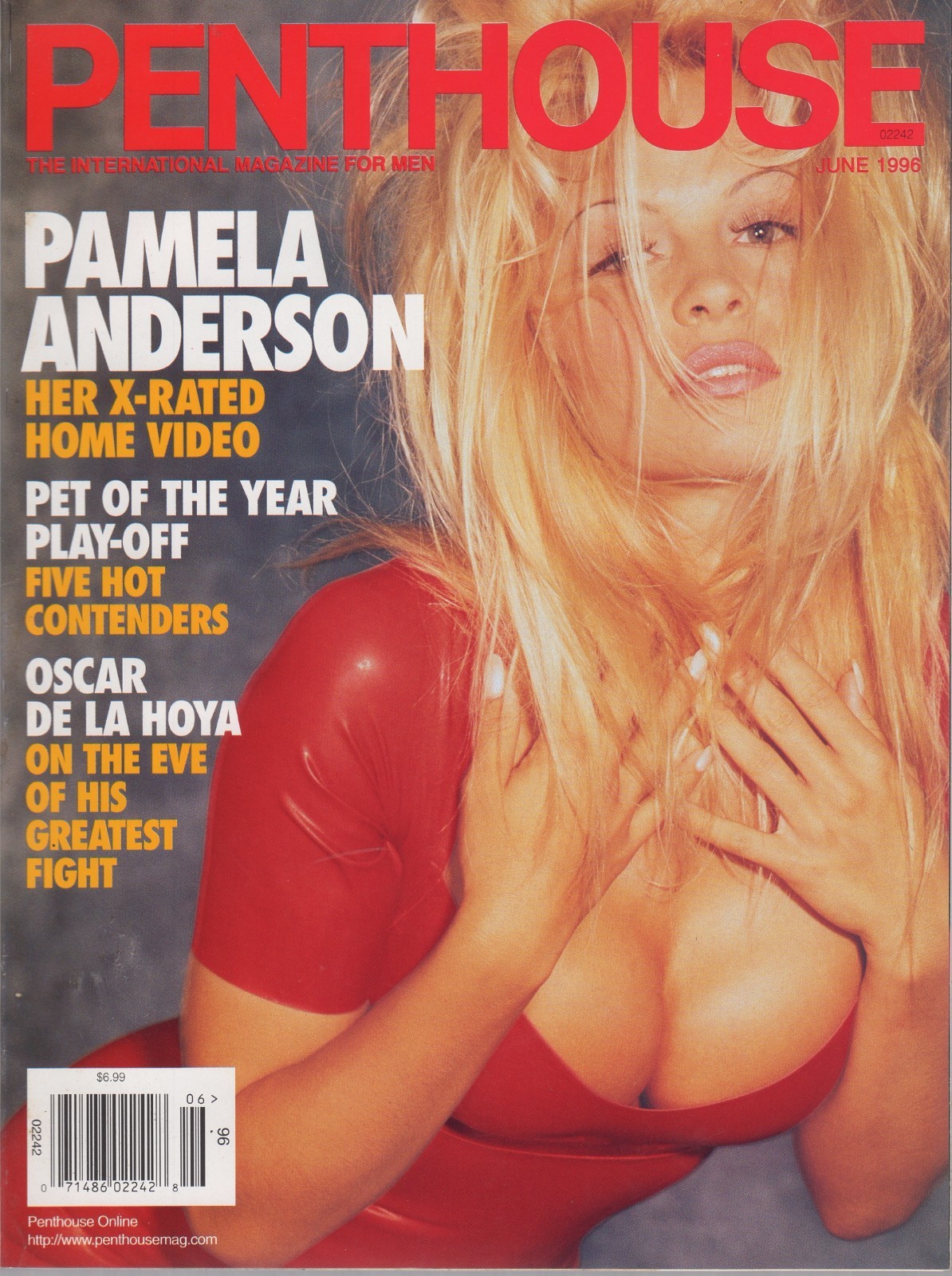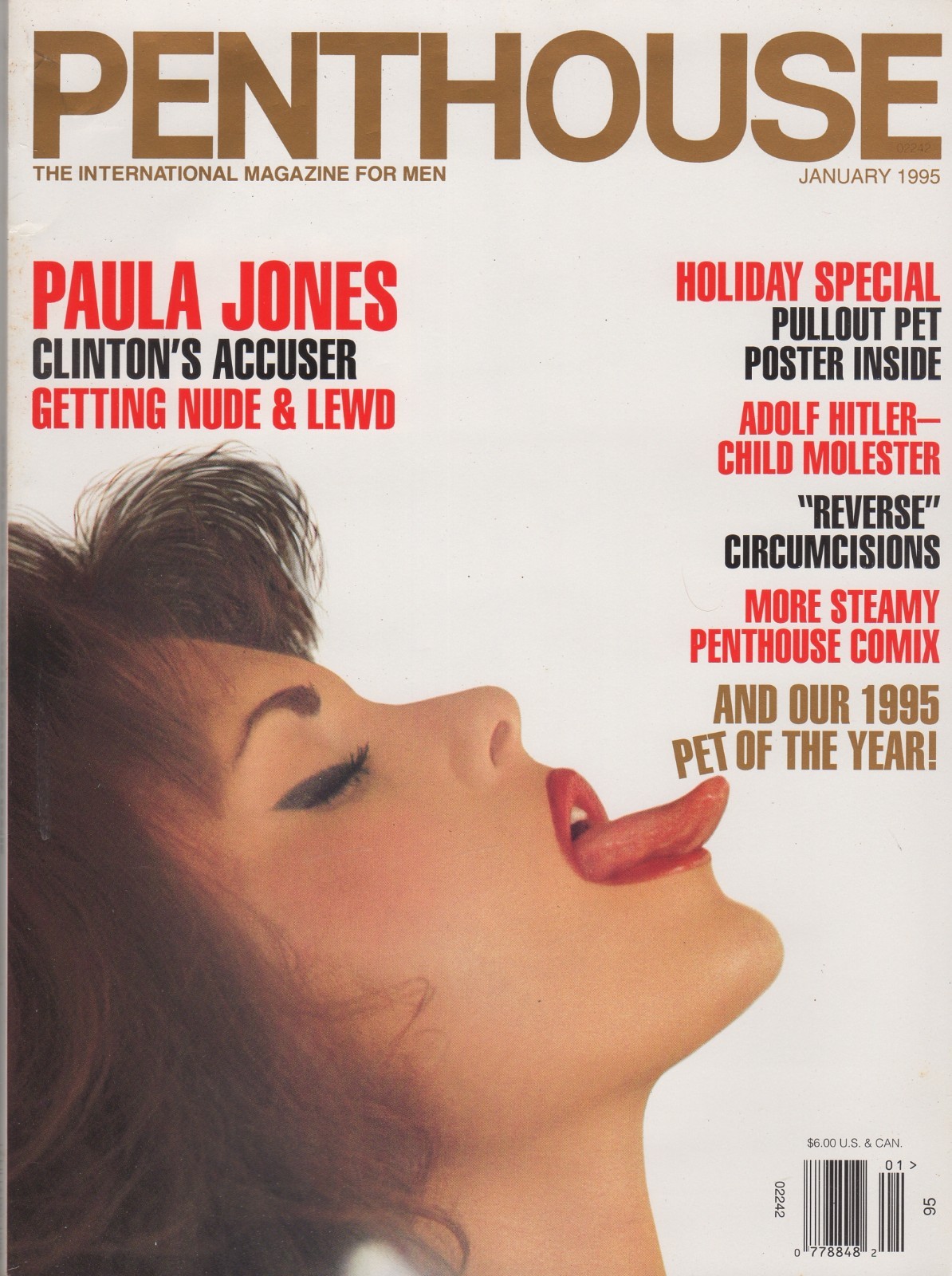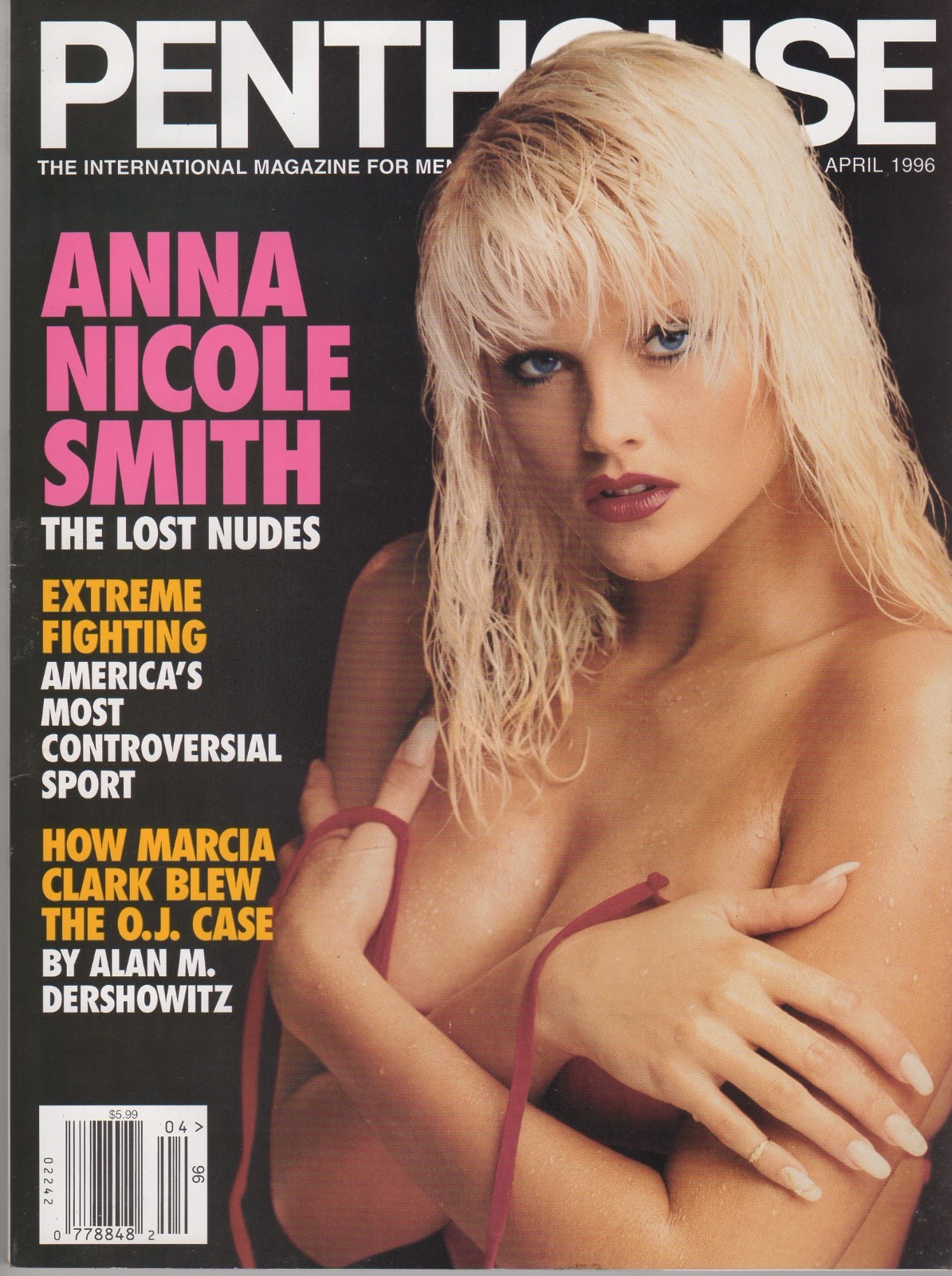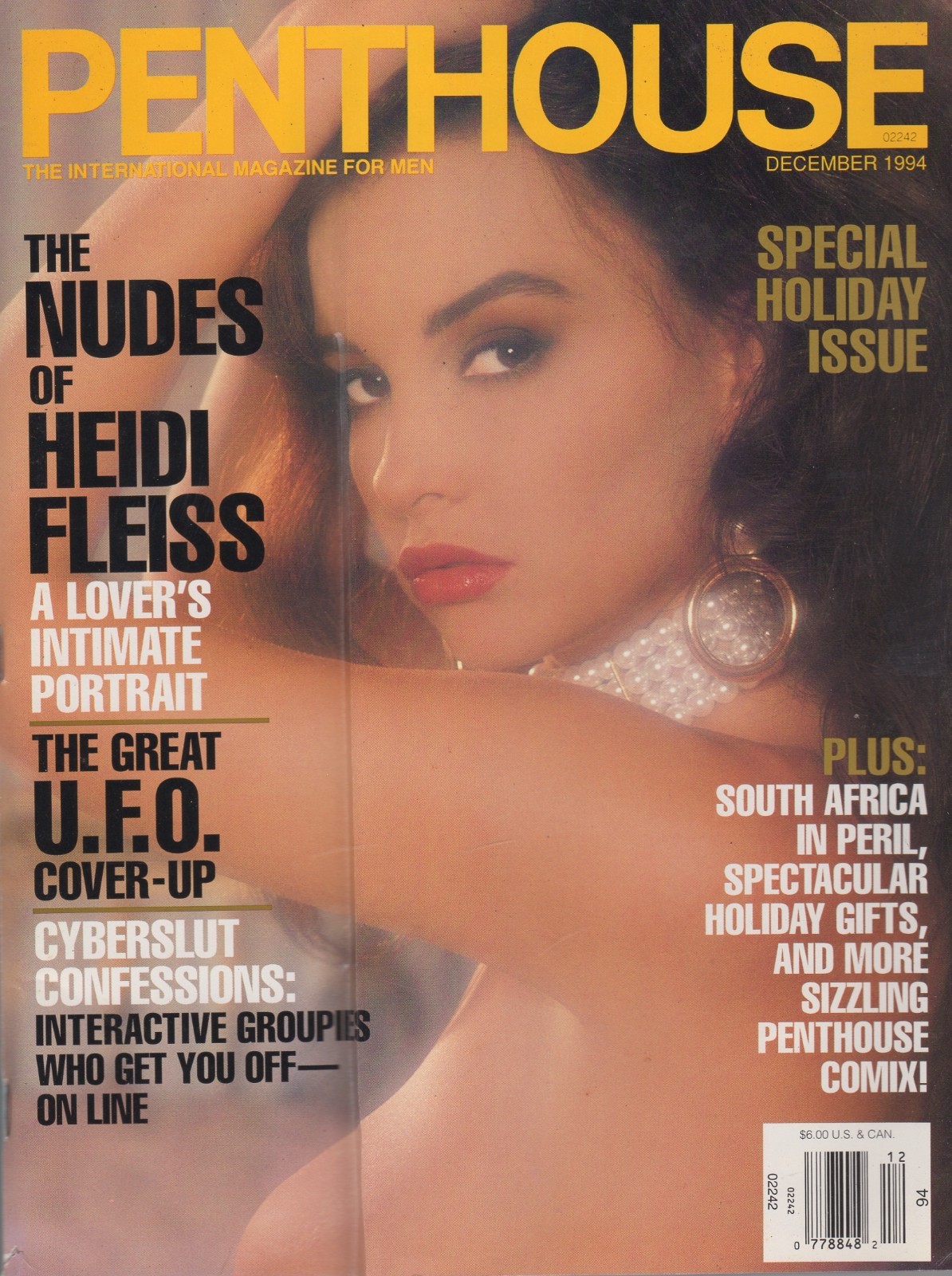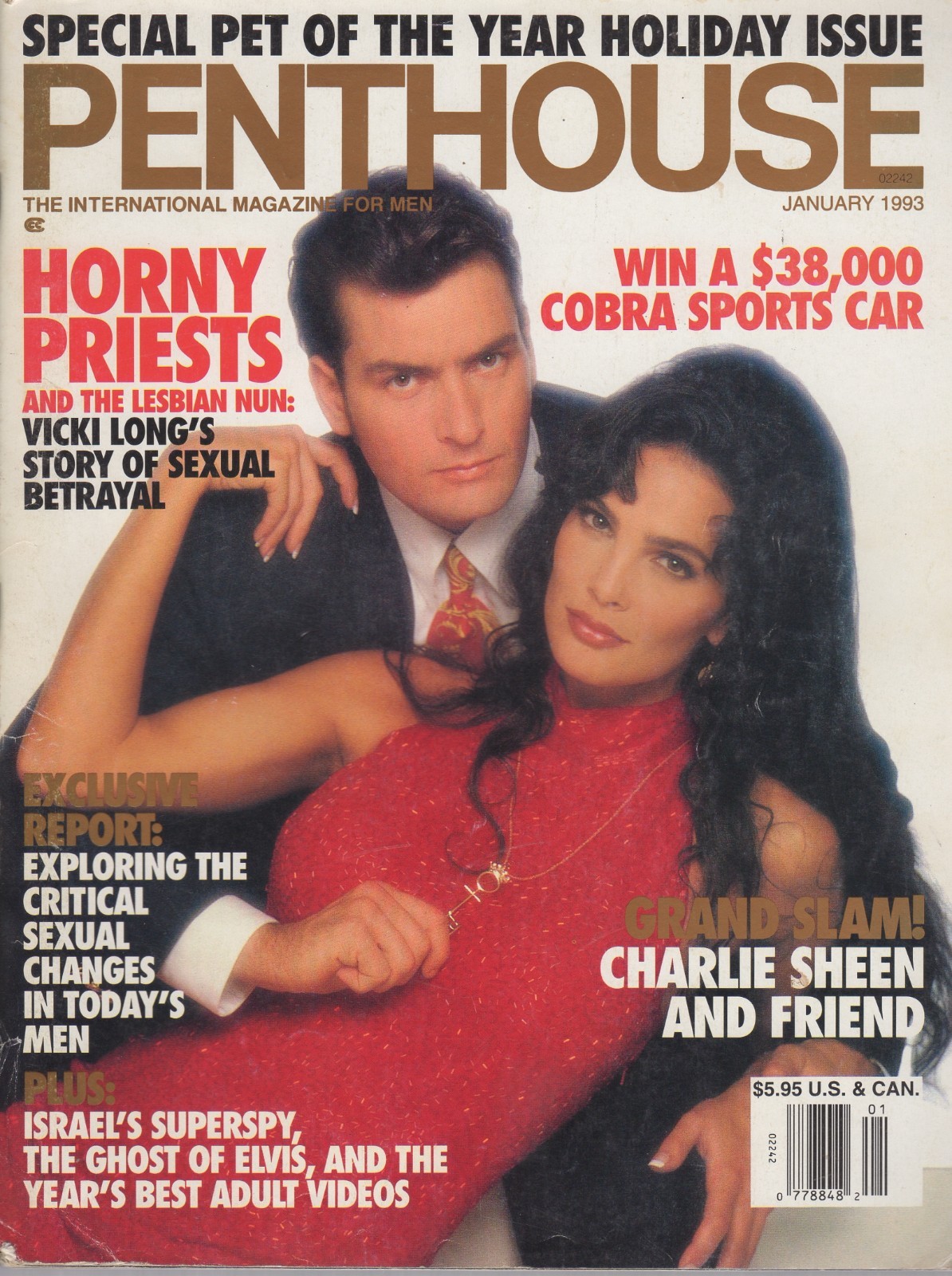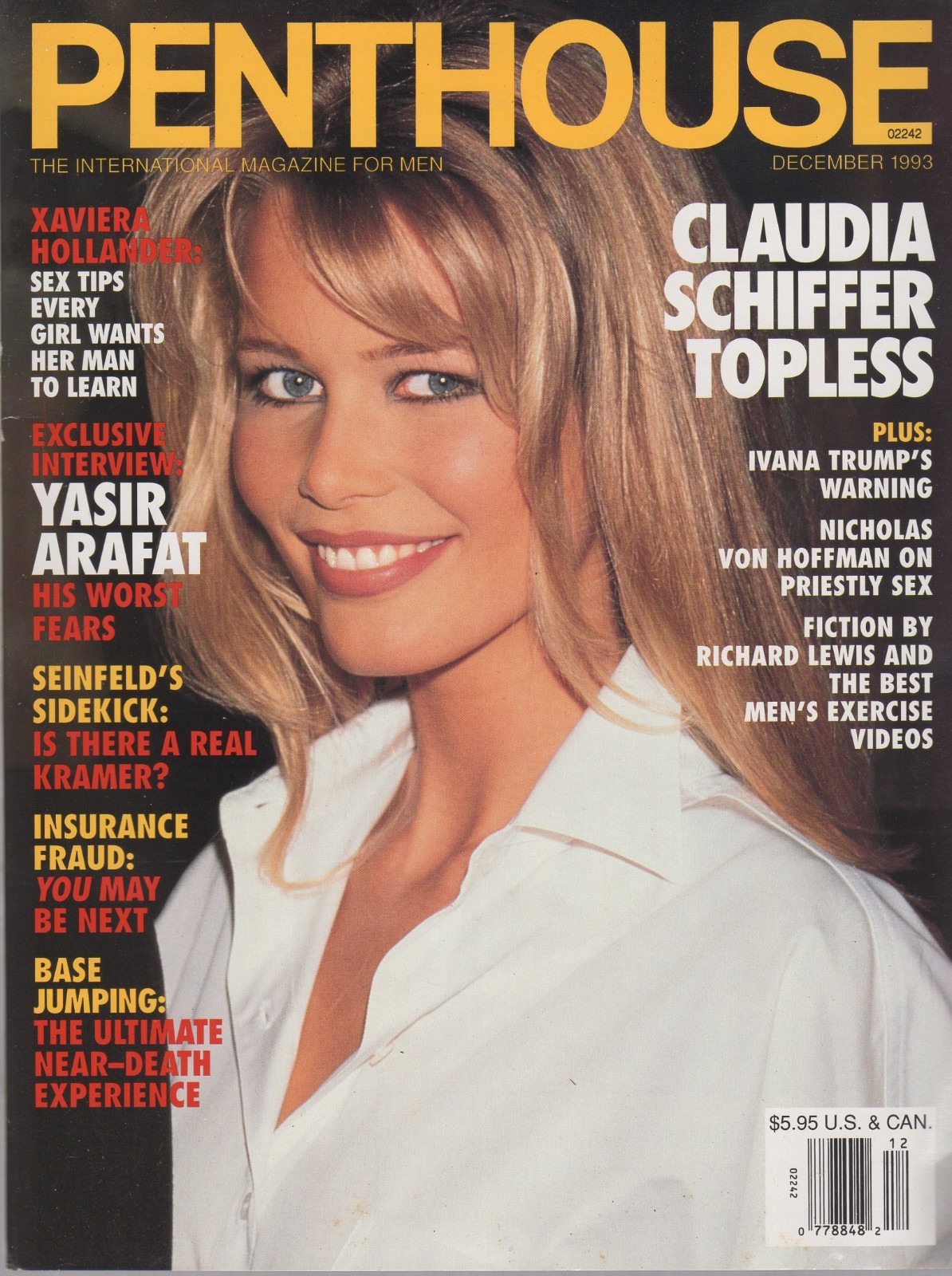 As the 1990's began, trouble was on the horizon for Penthouse. Guccione was a man that never met a conspiracy theory he didn't like. He spent increasing amounts of money investigation things like CIA / FBI cover ups, and secret Alien Autopsies. He railed against Janet Reno and devoted several issues to the Branch Davidian raid in Waco Texas. He was a very confident man, and he treasured that in others. But sadly it is a very short leap from confident man, to confidence man. Guccione was mislead over and over with bogus stories. A group of would be researchers claimed to have the ability to produce a "Fusion Power Plant", a technology that would replace nuclear power. Guccione sunk untold millions into the project that was later revealed to be a complete scam.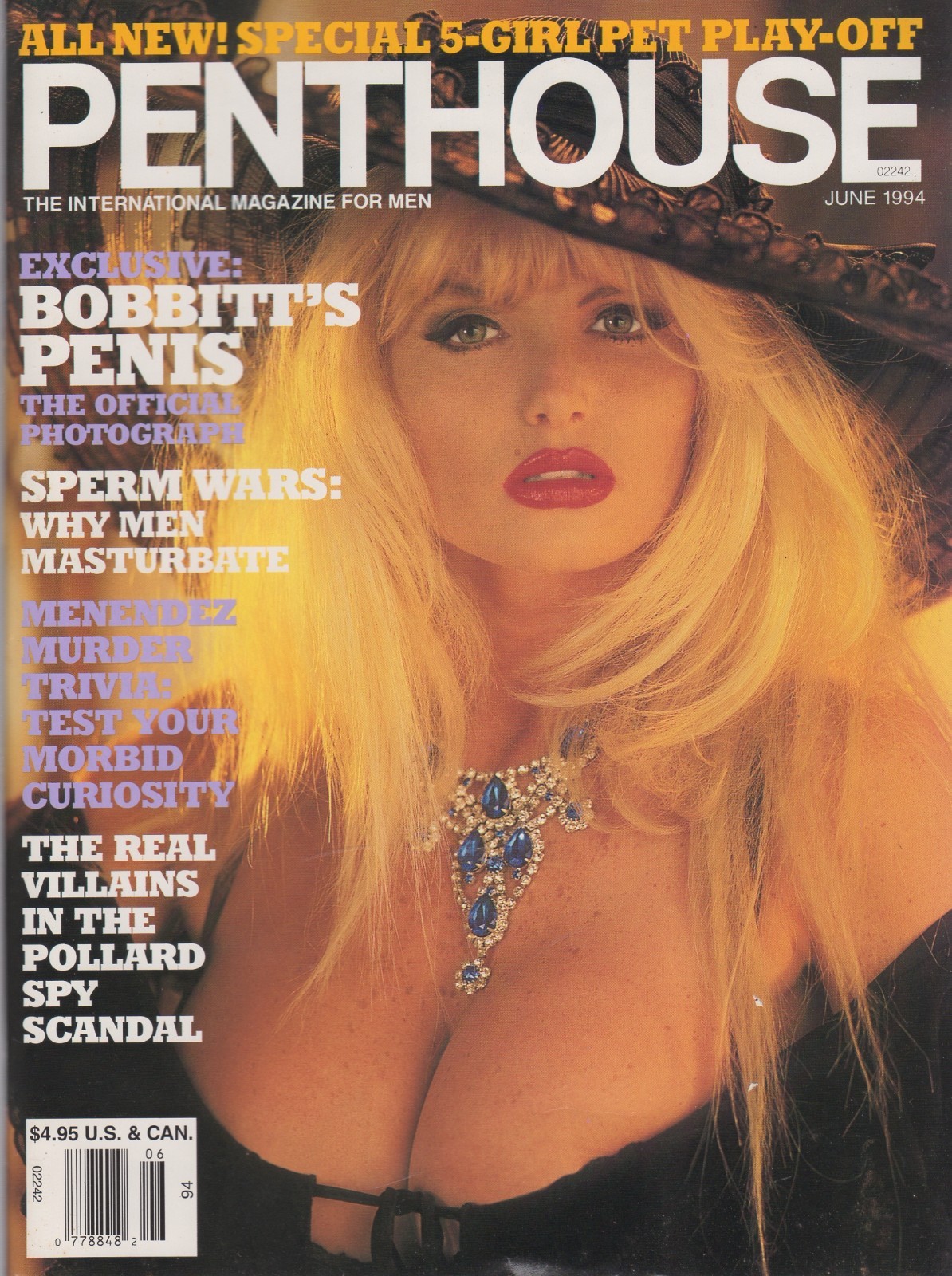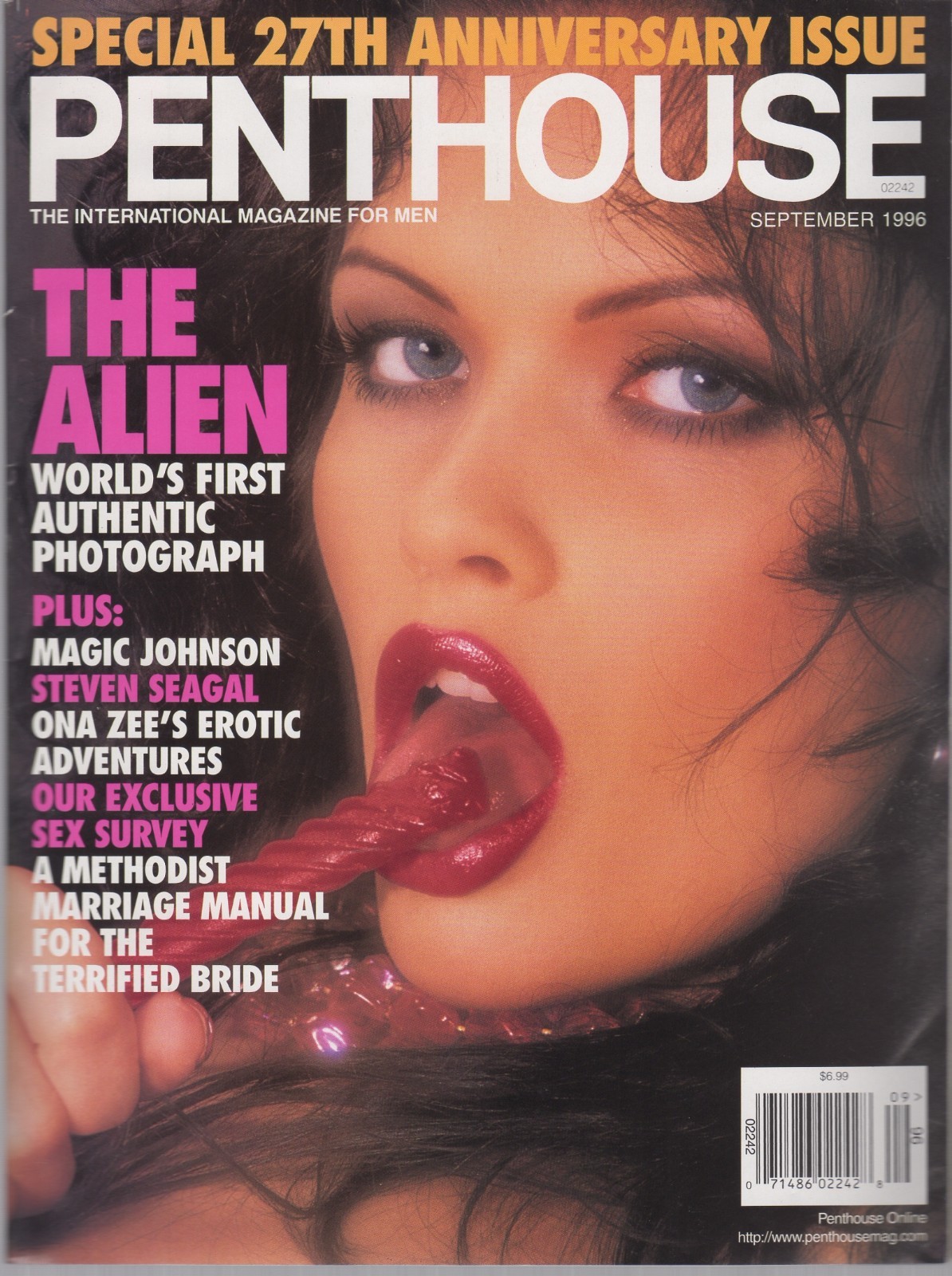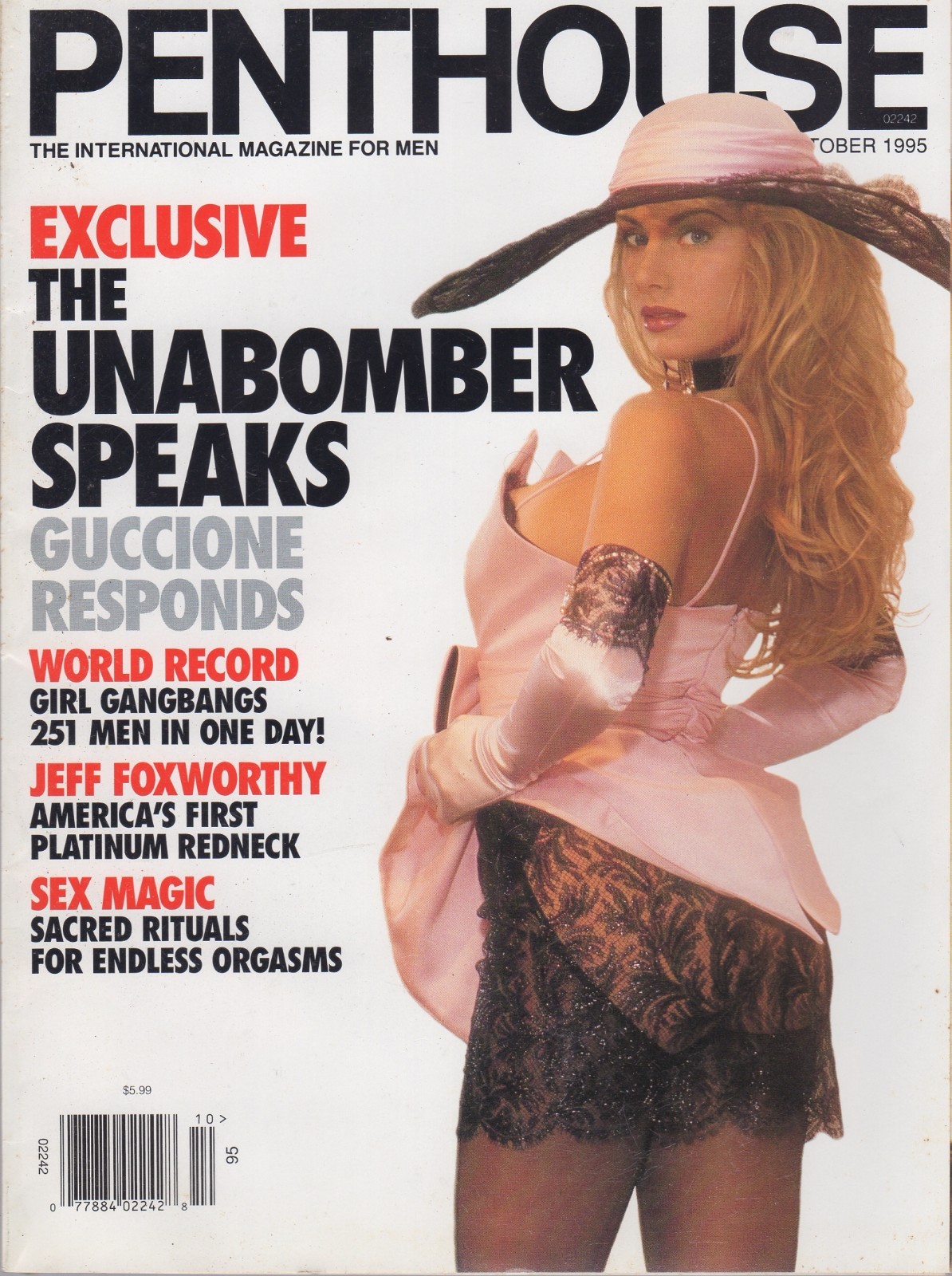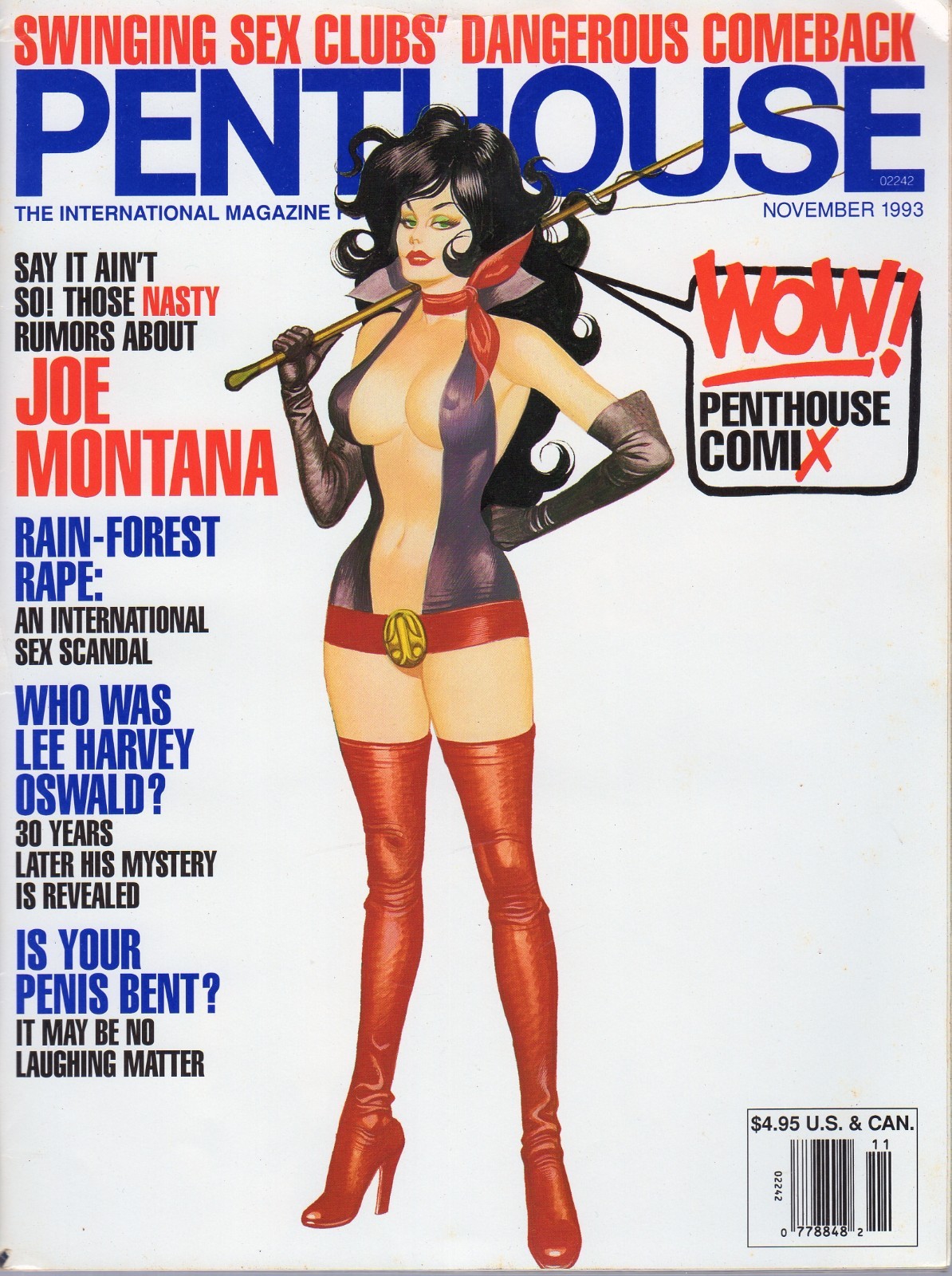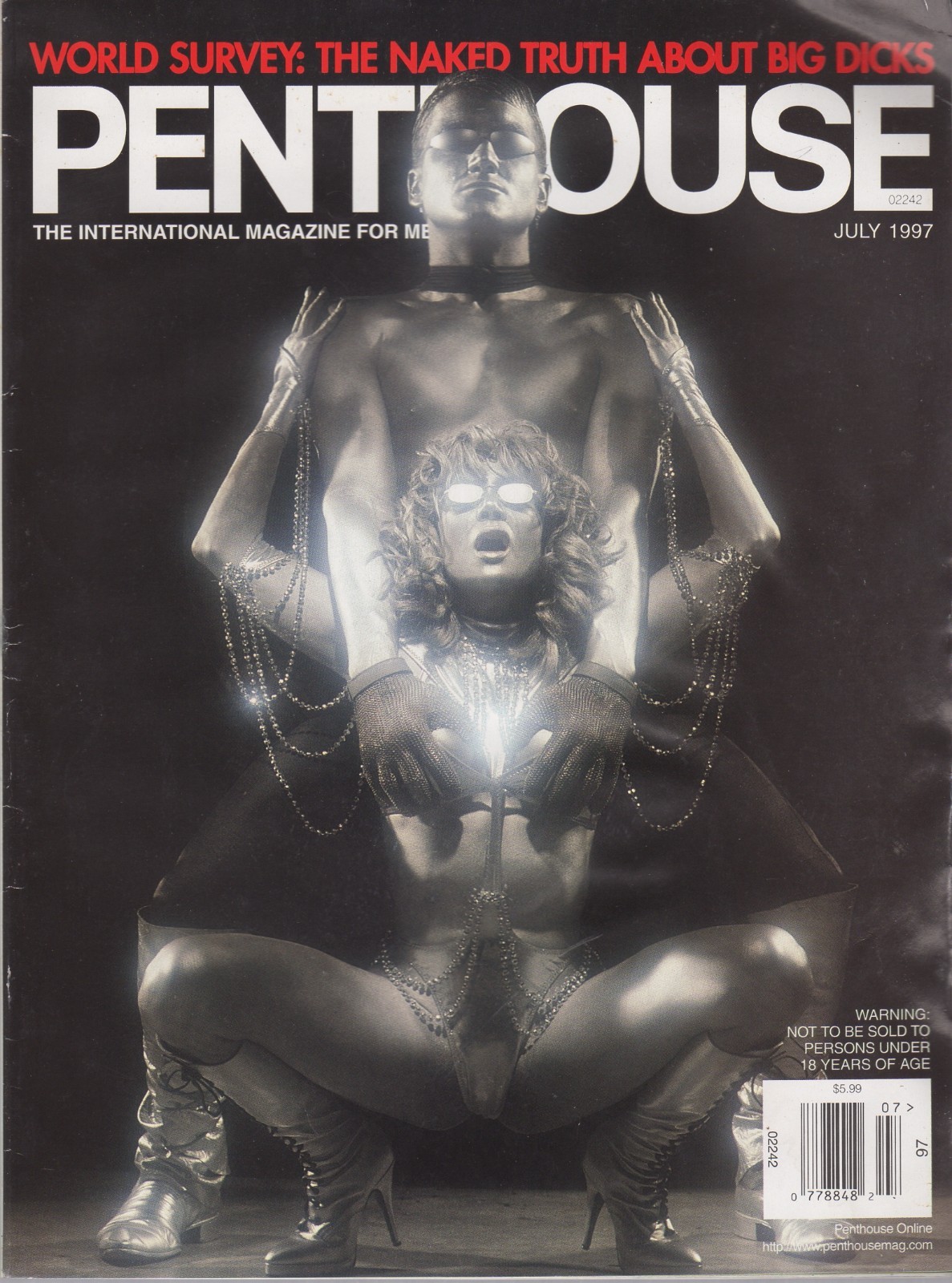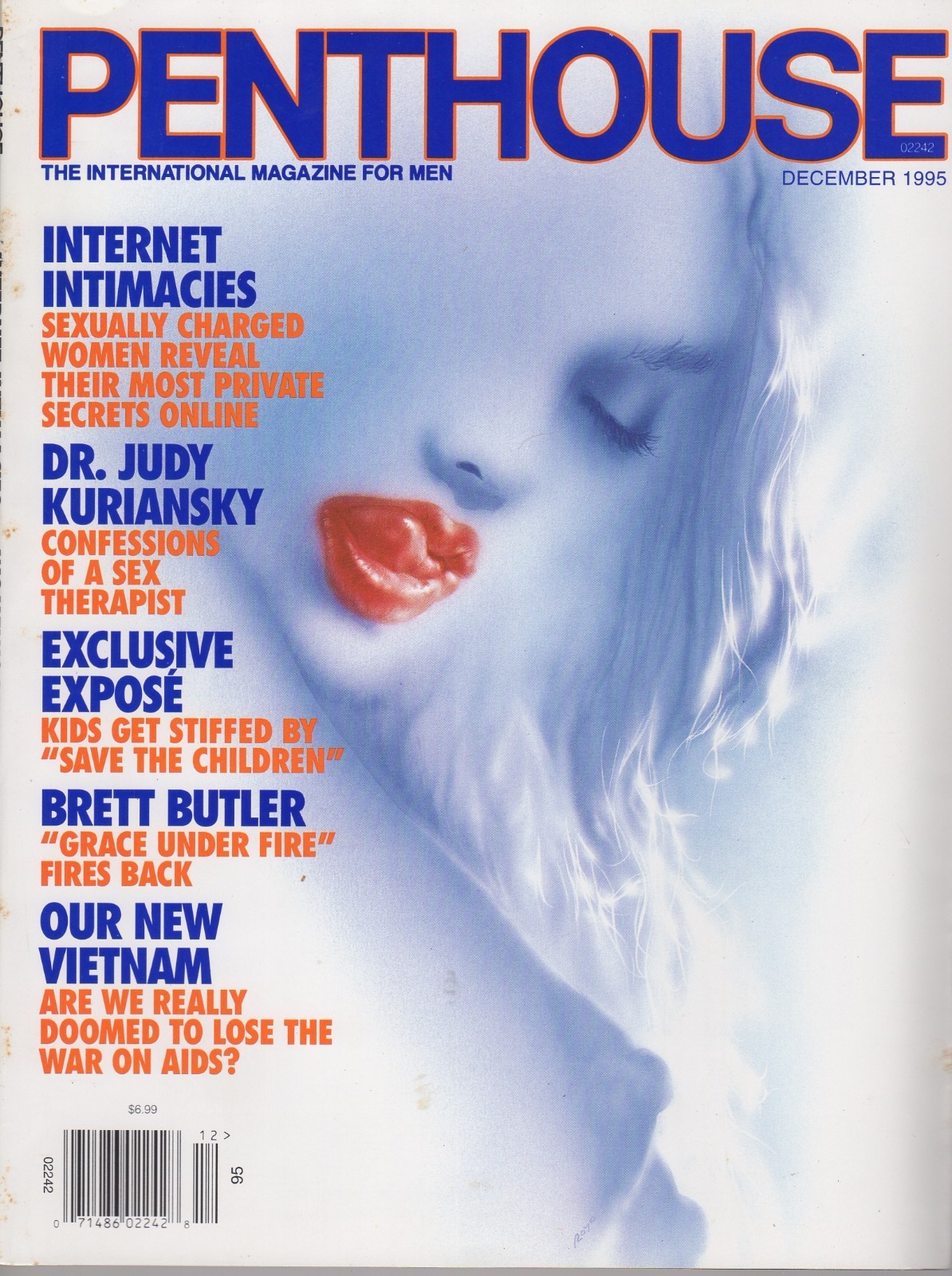 On September 19, 1997, Kathy Keaton died. Guccione's wife, longtime partner and firm controller of the General Media empire was gone and without her firm hand on the tiller the company spiraled out of control. Guccione was convinced that he needed to return to the original formula, turning the magazine in a much more raunchy direction. Pictorials featured actual sex acts, penetration and urination. He firmly believed that the more people told him he was wrong, the more it proved he was right. He ignored the emerging technology of the internet, and in 2003 the company (Longevity and Viva) that had boasted such titles as Penthouse, Forum, Variation and the non-adult Omni, declared bankruptcy. Longevity and Viva was purchased by an investor group, that originally promised Guccione a spot as CEO, controlling the artistic direction of the new magazine. Shortly after the acquisition, Guccione and his long time assistant Jane were both fired in an abrupt phone call from a junior partner.Guccione unsuccessfully tried to sue to regain control. As his health declined, he was in financial ruin. His massive art collection was sold to pay tax debts, and on October 20, 2010 Guccione died from lung cancer.Through the amazing back issues that exist, the reader can see a time capsule of some of the most turbulent times in world history. They can visit places that no longer exist, and go deep inside the lives of people who have left us. From the amazing, lovingly shot Pet of the Year pictorials, to the long running comic Oh Wicked Wanda, featuring an animated dominatrix, Penthouse magazine is one of a kind.
If you are interested in learning more about Bob Guccione and the Penthouse story I highly recommend the documentary Filthy Gorgeous.  See Bob explain things in his own words and get to hear from numerous models, staff, and Bob's own children. You can also read "No One's Pet" Sheila Kennedy's account of her work with Penthouse.
---
PENTHOUSE PETS 1969 – 1999
1969 – Launched in September (US Edition)
Evelyn Treacher  September

Kelly McQueen – October

Ulla Lindstrom – November

Janet Pearce – December
1970 – First Full Year – Pet of the Year Evelyn Treacher
Katherine Mannering – January

Tamara Santerra – February

Ilse Hasek – March

Stephanie McLean – April

Benedikte Andersen – May

Christina Lindberg – June

Polly Anne Pendleton – July

Françoise Pascal – August

Tina McDowall – September

Heide Mann – October

Franca Petrov – November

Jennifer Furse – December
---
1971 – Pet of the Year Stephanie McLean
Viva Helziger – January

Cassandra Harrington –
February

Lottie Gunthart – March

Jacquie Simmons-Jude – April

Billie Rainbird – May

Josee Troyat – June

Vida Farthing – July

Judy Jones -August

Maureen Renzen – September

Helen Caunt – October

Lynette Asquith – November

Lynn Partington – December
---
1972 – Pet of the Year Tina McDowell
Patricia Barrett – January

Carole Augustine – February

Billie Deane – March

Marianne Gordon – April

Sharon Bailey – May

Nevenka Dundek – July

Lesley Harrison – July

Marian Maylam – August

Isobel Garcia Orobiyi – September

Janet Dunphy – October

Angela Adams – November

Lynn Carey- December
---
1973 – Pet of the Year Patricia Barrett
Maggi Burton- January

Karen Sather – February

Avril Lund – March

Leslie Leah Burrow -April

Sandi Greco – May

Paula Francis – June

Cindy McDee – July

Lane Jackson Coyle – August

Anneka De Lorenzo – September

Francis Canon – October

Debbie Griffin – November

Sandy Robertson – December
---
1974 – Pet of the Year Avirl Lund
Claudia Arena – January

Beatrice Vogler – February

Marie Ekorre – March

Nancy Sebastian – April

Brande Howard – May

Alicia Justin – June

Barbie Lewis – July

Stacey Cameron – August

Janice Kane -September

Laura Bennett Doone – October

Sharon Longworth – November

Cathy Green – December
---
1975 – Pet of the Year Anneka De Lorenzo
Juliet Morris – January

Lona Simpson -February

Susan Ryder – March

Signe Berger – April

Ava Gallay -May

Wendy Blodgett – June

Jane Hargrave – July

Marguerite Cordier – August

Michelle Stevens – September

Anne Peters – October

Bonnie Dee Wilson – November

Susan Waide – December
---
1976 – Pet of the Year Laura Bennett Doone
Laure Favie – January

Martine Le Mauviel – February

Joann Witty – March

Sandy Bernadou – April

Sonny Smith – May

Anna Grimwood – June

Helen Lang – July

Victoria Lynn Johnson -August

Dawn Shaw – September

Susanne Saxon – October (Deceased)

 

Carolyn Patsis – November

Adrian King – December
---
1977 – Pet of the Year Victoria Lynn Johnson
Marilyn Connor – January

Betsy Harris – February

Jolanta Von Zmuda – March

Shonna Lynne – April

Valerie Rae Clark – May

Dominique Maure – June

Christine Davray – July

Barbara Corser – August

Lucia St. Angelo – September

Cynthia Gaynor – October

Debora Zullo – November

Cheryl Rixon – December
---
1978 – Pet of the Year Dominique Maure
Carrie Nelson – January

Laura Storm – February

Carmen Pope – January

Mariwin Roberts – April

Angela Hyer – May

Corinne Alphen – June

Barbara Ann – July

Jennifer Zane – August

Kate Simmons – September

Veronique de Valdene – October

Malia Redford – November

Amber Ramsey – December
---
Dusty Jackson – January

Pamela Rhodes – February

Shasta Lindstrom – March

Isabella Ardigo – April

Brieanna Bujold – May

Lynda Clark – June

Jaycee West – July

Diane Weber – August

Joanne Latham – September

Tammy Hill – October

Danielle Ginibre – November

Judi Gibbs – December (Deceased)
---
Blog Copyright KathyKC for Doodedansdeals.com 2016